🎙️The British Establishment is A Cult: My BBC Interview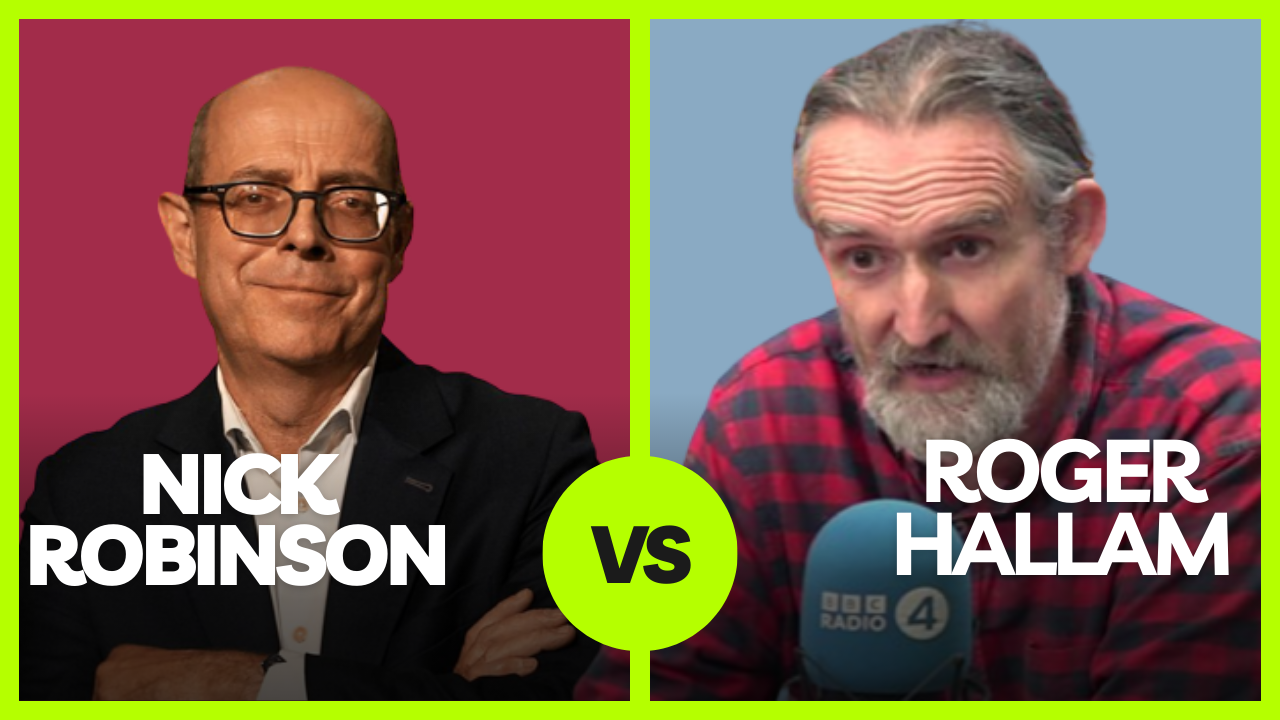 Like other interviews I've done with members of the political class, this one again shows their psychotic inability to see that the real world trumps the political world. The contemporary British Establishment is a cult that believes in two extreme worldviews:
Vulgar Utilitarianism: the complete inability to see the value in doing anything because it is good in itself. Everything is a function of the question "does it work?" – which practically results in a chronic short- termism, and the notion that ends always justify the means (e.g., it's okay to lie if it will take you into "power").
Absolute Post-modernism: the complete inability to see that some things are objectively real, such as the laws of physics. Everything is seen as a "point of view" and a "belief," apart from the belief that everything is subjective which is insisted upon with rigid dogmatism.
The reason the political class is taking us to civilisational collapse is because it cannot think straight. It has lost its moral compass and any analytical intelligence. It exists in its own closed world.
Worst of all, it cannot feel emotion – the entry point for a change in one's worldview. When did you see a political or media figure cry about the betrayal of our youth, our country, our world?
The political class is DEATH itself – there can be no compromise with it. It is never going to save us in the time we have left.
We can only save ourselves through a political revolution which puts ordinary people in power through assemblies – not because "it will work," but because it is the right thing to do.
---
Before we dive into the interview itself, I'd like to give a shout to my upcoming London lecture on The Meaning of Revolution in the 21st Century on Thursday November 23rd. There'll be vegan food and time for discussion on the path ahead to creating a progressive revolution.

If you're not in London, please share with any friends who are.
The Interview
Political Thinking Transcript

Nick
Disruption works, disruption is justified - so says my guest this week Roger Hallam, the co-founder of Extinction rebellion and the mastermind of Just Stop Oil. He joins me here on political thinking, an opportunity for a conversation with, not a news interrogation of, someone who shapes our political thinking about what has shaped theirs. Hallam argues, and I quote "that only mass civil resistance can stop the global one percent imposing mass death on billions of people". Agree with him or passionately disagree there's no denying that he's one of the most potent organisers of political protests of recent times. Roger Hallam, welcome to Political Thinking.
Right, that quote came from your website. There's another quote on the front page. It says the essence of what is human is the ability to make a decision, a conscious decision, about what is right in life. What did you mean?
Roger
Well I thought we were going to talk about this later in the interview but okay we'll start with the big point. So the big point, I suppose, is that at a time of existential crisis people have to and tend to make a decision about what's right and wrong and they base their decision on that virtue, on the notion of virtue. They don't make a utilitarian decision. They don't go "What will work? What won't work?" and I think our culture is in the process of transitioning towards a realisation we don't have control. We have control over our own lives. We don't have control over what's going to happen over the next 30 years and so what's most important is we live a good life in that Aristotelian sense, dare I say it, and that's where I'm at and that's broadly what I promote to people in terms of them making decisions to go into resistance.
Nick
Do you mean that what I spend my day job doing, asking questions of politicians about this or that policy initiative in a sense misses the point as far as you're concerned when it comes to the threat that we're now facing?
Roger
Yeah well, at the danger of disrupting you I'm just going to read you a quote so hopefully your audience can understand a little bit more viscerally what we're actually talking about. So you know I get sent science articles three or four times a day so there's nothing particularly unique about this but it came out about a month ago from a peer-reviewed paper in a journal called Energies, and this is what it says "If warming reaches or exceeds 2 degrees Centigrade (Celsius), mainly richer humans will be responsible for killing roughly 1 billion mainly poorer humans." Ok, so …
Nick (interrupting)
That's the result the climate change produces. Drought produces famine and so on and so forth.
Roger
No, what that quote is saying is climate change is not killing anyone. It is mainly richer human beings who are killing poorer human beings and the tool of the death project is destruction of the climate. So that …
Nick (interrupting)
Tool is an interesting word and I quoted you as saying the global one percent are imposing mass death. You're arguing that this is a conscious, a deliberate, a calculated act by those people, are you? Rather than the byproduct of what they would know to justify as growth, expansion of wealth and so on?
Roger
It's an interesting intellectual digression to –
Nick (interrupting)
You're saying it misses the point …
Roger (continuing)
– to split hairs over what degree of murder it is –
Nick (interrupting)
It's a genuine question because it's your language ….
Roger (continuing)
– I know, I know; I'm just choosing my words carefully. I think when your audience hears that, they've got two options and you've got two options which is to try and intellectualise around it and you know ask a reasonable intellectual question which is to what degree is it murder or to what degree is it manslaughter but that is a displacement activity. The main human response to that should be massively emotional: emotional about what's going to happen to you, what's going to happen to your family, what's going to happen to the country, what's going to happen to the whole world, what's going to happen for the next hundred thousand years because this is going to go on and on. And the biggest problem is journalists like yourself, with all due respect, and a lot of elite people are incapable of emotionally connecting and what we know from, you know, ancient wisdom but also from modern psychology is that reason is a product of emotion. Unless you can actually feel the terror and horror of what I've just said you're not going to be able to act rationally and reasonably in response to that horror.
Nick
Now one of the things I want to understand in this interview is how you think and how you have very successfully persuaded other people to think. Do you think that emotional reaction, the thing you say I'm incapable of but the interview is not about me, is what you did successfully produce a few years back in that very successful few days for you when Extinction Rebellion brought chaos to the streets of London if you're a critic or finally showed how many people were willing to stand up and be counted to fight for, um, to fight against climate change?
Roger
So (pausing) … I disagree with what you just said. I think it is about you, and it's about the audience.
So one of the things you learn about how to persuade people or how to create mobilisation is about centering things on the actual moment, this moment, right? We have a moment here. I'm talking to you, you're talking to me, a whole number of people are listening to this. Let's focus on our responsibilities and our emotions when we've just heard that 1,000 million people will (note the quote) "will be killed by mainly rich people in the next two generations." Right? If we're going to actually survive this beyond traumatic experience, which is effectively locked in, we have to learn to think about the immediacy of the moment rather than engage in what I would describe as the 'privilege of detachment.' Right? You know, you're doing this interview – that's all well and good. If we were in 1995, I would be answering your questions and very grateful, but we're not in 1995, we're in 2023.
Nick
What I'm interested in is, let's say I reacted in the way that – is 'want' the right word? – you would want me to and what you don't want me to do (and this isn't this interview), is to say, "Well, some scientists don't agree with that number and they don't agree with this time scale, we're not having that debate today that's for another time in another place, 'cause there are other views as you know. What is it that you want the reaction to be of me or anybody else. It's "My God! This should stop and it should stop now!" Is that the reaction you expected?
Roger
Well (chuckling), the very question of "how do you want me to react?" for me, shows that you simply haven't taken the information on. You know, if someone came through that door and said, "Your partner's in hospital," you wouldn't be saying "Well, what sort of reaction do you want me to have to that?" You'd be going (excitedly), "I've got to go Roger! 'Bye! There's an emergency!" You know, like three years ago the British Parliament, as you know – four years ago I think it was now – made a decision, right? On behalf of this country, that "we are in an emergency."
Nick (interrupting)
That was the wording that they used …
Roger (continuing)
That was the wording they used, but no one …
Nick (continues interrupting)
… Theresa May was prime minister. It came soon after soon after Extinction Rebellion took to the street.
Roger (continuing)
… yes, but no one in the political class, including yourself and your colleagues at the BBC, have even come close to understanding and acting upon what an emergency is. An emergency is when you clear the decks, right? What we should be talking about in this interview is not a nice gentlemanly discussion about my background and, you know, what I think about the theory of social change. If you have me on for a whole bunch of series we can go into that but I haven't been on the BBC for, what, three years now? The last time I was on was Hard Talk, and – what was it called? "More or Less" – said I was making it up when I said billions of people were going to die, right? I've got half an hour on your show. There's an emergency. What I want to talk about is you, because you have enormous ...
Nick (interrupting)
Well, this is interesting! So, you want to come onto an interview program and interview me rather than the other way?
Roger (trying to continue)
… you have enormous ….
Roger
Yes because that's how social change works. Social ch–
Nick (continuing to interrupt)
Yeah well I'm going to ask you some questions and you can ask me; why don't we do a deal halfway?
Roger (continuing)
Let me … let me just finish. I'm not going to go on for ages. Let me just finish and say the process of social change, the process of getting things done in an emergency, is all about transgression. It's all about saying "What you're saying is not important. This is what's important." because it's objectively important because that's what an emergency is.
Nick
I'm teasing you gently but you're suggesting that by hijacking this interview in a sense this is a form of civil resistance like that that you have it's promoted
Roger
It's … it's not a move, right?
Nick
Well it is.
Roger
No, it's not. You can construct it as that but it's not.
Nick
But if it's not a move well what is it then?
Roger
It's a visceral reaction to my total horror that the British establishment has completely failed to protect the people of his country.
Nick
Well forgive me Roger you went to University and you studied civil resistance for a long time, you came into this interview with a lot of notes written down. You do make moves, you do make calculations. One of the reasons you're interesting to interview is because strategically you have turned out two of the most successful influential protest movements this country has seen in recent times so let's not pretend you don't work things out.
Roger
No, obviously not. I'm human and I spend a lot of hours each day trying to work out what to do and what not to do, but the critical point here that I'm trying to make and to your audience because it's your audience I've come to speak to (no disrespect to you, right?) is, is when something's so awful as this is happening, you have to get your existential ducks in a row. You need to decide what sort of person you are and what sort of life you want to lead and the fundamental question is how you're going to lead a good life, right? Most people don't think about this much because, you know, most of the time it's fairly obvious – you look after your family, you have a good job – but there's a massive missing element, which is to protect your country and to protect the human race.
Nick
Perfectly fair point, and why don't we do a deal which is I ask you some of the questions I want to ask you and you ask me some? It's a podcast. We've got time to do both. What you've just said, I think, raises quite a fundamental question which is: is it fear, is it anger, is it what you call visceral emotion, that will drive change or is it hope? Now only in the last few days we've seen the Prince of Wales talking about the importance of hope when it comes to climate change and he would see himself, the king would see himself, as somebody who has argued passionately for change and my guess is privately, they'd say, "Come on Roger! I mean, if you scare the pants off people that's not going to work at all." What do you say to people who say that?
Roger
I say that you are not being true to yourself if you engage in utilitarian, like, distractions at this time ….
Nick (interrupting)
What? 'Hope' is a utilitarian distraction?
Roger
What I'm saying is – I know you don't believe me but I'm just going to assert it again, right? – is I'm not coming into this interview, like, with a whole bunch of moves. I'm coming in to say something that's fundamentally truthful. When I helped to initiate Extinction Rebellion and Just Stop Oil, my fundamental rule is to say the truth and to act as if it's real. That was the foundation and if you want my analysis on why Extinction Rebellion was so successful, it was because the founders were not interested in being successful – they were interested in telling the truth. That's a completely different logic, as you know.
Nick
I understand that as a motive, but it is also the case that having studied successful civil resistance and protest movements you came up with I think, maybe it came from someone else, a theory of 3.5 percent an idea of how many people needed to resist in society to make a difference. Just talk us through the mindset if you would.
Roger
If you study the history of civil disobedience as I have – the starting point, right? The starting point of the power of civil disobedience movements is the decision to act on the truth. Like not a postmodernist version of the truth – not like, "Oh, there's Roger's truth, and there's someone else's truth," right? We know ultimately you can't say what the truth is but for practical circumstances if someone murders your offspring and someone says "Oh well, it's just a matter of your opinion," you're not going to be very impressed. You know your daughter or son is dead. It's dead. It's an objective reality. What we're dealing with here is the objective reality of physics. So if you put more carbon into the atmosphere – and we allow the elites to do that – then billions of people will die. You know – maybe six billion, maybe three billion – but it's an obscene discussion and I don't want to go there, right?
Nick
Yeah, no, I know. I don't have an argument about it - it's a forecast.
Roger
What we need to understand is this is a unique moment in human history. We can look at civil resistance like, you know, in various other contexts – but this is totally new.
Nick
Sure. What I'm interested in is what you are saying – and you are talking to people via this podcast and program – is necessary to make that change. You're telling them that you want them to join in with civil resistance. You're saying, sometimes to people who've never been on a protest in their life, "I'd like you to get arrested, if you're willing to be arrested, I'd like you to go to prison." What I'm asking you is how is that going to change the thing that you say is so frightening?
Roger
Well the first thing to say about disruption is, you know I'm interviewed a lot about this question, and as far as I'm concerned it's a bad faith question, right? It's a cynical question, and the reason it's a cynical question, "why disrupt, Roger?" is, everyone disrupts.
Nick (interrupting)
Well I'm not asking you why you disrupt. I'm asking you to explain to people who you want to disrupt how it'll work – whether you're productive. I-I've, we'll come to whether …
Roger
Well, this is what I say to people … this is … this is … what I say, people say … people say "Oh why should we engage in disruption? Why should we engage in civil resistance to the point of arrest?" and what I'd say is you're being dishonest with yourself, right? The reason you're being dishonest with yourself is that, if you have values and those values are disrupted, everyone disrupts. Historically, right-wing people disrupt, left-wing people disrupt. The determining factor is, are you utterly horrified by a social development such that you cannot live with yourself and not engage in disrupting your society? Ultimately, disruption is war, right? You know, there's very few people that would argue that disrupting Hitler was a bad idea otherwise known as World War II, right? So, you can work back from that, and what we're, what I'm saying here is, if you have someone come into your interview and say "A billion people are going to be killed!" That's a no-brainer right? That's 20 World War IIs.
Nick
But I'm interested – you said "disruption is war." It's a war against who?
Roger
It's a war against those people who are engaging in mass murder.
Nick
Who are they?
Roger
The global elites.
Nick
But who are they? I mean it's a phrase.
Roger
Well practically speaking in this country it means the UK government and the forces behind the UK government but the UK government has a constitutional responsibility as the people that control the British State.
Nick
Now after you and your supporters occupied the streets, particularly of London, in 2019 after what, a thousand odd people got arrested, the UK government not only listened, they would no doubt deny there was a direct link to the declaration of a climate emergency, but they did declare a climate emergency in Parliament. Also some of your representatives, not you, got to meet with Michael Gove who was the environment secretary. Did it feel to you like a moment where, "Wow! These people, they are actually listening!"?
Roger
Well, this … this is a really mind-blowingly stupid question right? One billion people.
Nick
We could swap if you like. You could do my job and I'll do yours. Should we do that, right?
Roger
I'll tell you why it's a mind-blowingly stupid question. This comes back to emotional connection right?
Roger
I mean I've got no expectation you're emotionally connecting, right, with what I've just said because you're part of that system that isn't able to connect when I'm coming onto this program…
Nick
I'm paid not to take the side of people who are in front of me to be interviewed.
Roger
Exactly – you're paid. So it's part of the culture - the psychopathic culture of the British Elite is just not to connect with the emotional reality of what's going to be imposed on the British people.
Nick
But just get to why, why. I don't wish to invite you to endlessly repeat how stupid I am but why is it not a sensible question to say "did you feel then you were getting somewhere and you not feel now that you are getting somewhere?"
Roger
What I'm trying to say is the pretence that the British establishment is taking seriously its responsibilities is self-evidently ridiculous given the gravity of what we found
Nick
But did it feel that way then or was there a moment you thought not for a second that you'd won, of course not, but we're shifting things, we're moving things. Things are changing.
Roger
Yes there was a moment when the British establishment, the political class of this country, had the opportunity to fulfil its most grave obligations towards the British Nation, to British people, and it utterly failed.
Nick
That was in 2019.
Roger
That was in 2019 when there were 10 000 people on the streets of London and it was an opportunity. That was a very graceful, very well organised, very peaceful protest, as everyone knows. I spoke to the Head police officer afterwards and he said he'd never known such a big congregation of people doing civil disobedience that had led to no police officer having any injury at all.
Nick
Well I remember being on Waterloo…
Roger
This was an opportunity…
Nick
It wasn't much of a party for those that really couldn't get across the bridge and had important jobs to do of course but it was a party for those who were on the bridge. It was an opportunity missed, you know that meant that you changed your approach. You adopted different tactics. Tactics which led you to a fall out even with your own daughter at one point.
Roger
Yes. So I think the next question you should be asking …
Nick
Can I ask you the question I want to ask and then you can ask me the question that I'm meant to ask okay. You fell out with your daughter she said and indeed she threatened to walk out of Extinction Rebellion unless you left it as a documentary that shows that I…
Roger
I don't want to answer that question because I don't think it's that important, right. What the important question I mean … you can ask me questions and I choose whether to answer them right.
Nick
No, no let me put it another way and then then you can tell me um okay you don't want to talk about the personal thing but there was an argument wasn't there about whether you could keep the party atmosphere of Extinction Rebellion going or whether you actually had to harden up what you wanted to do with causing disruption at Heathrow and it led eventually to Just Stop Oil.
Roger
It did but that's not what is important in a half hour interview. What's important in this half hour interview okay, what's important in a half hour interview is to focus on the pathology of the British establishment in its treasonous inability to understand politically, emotionally, what is coming down the line, right? This is what's avoided over and over again by the media. It's this focus on the civil Disobedience to focus on this movement. This movement is not important. Civil disobedience is not important. What's important is for the audience to discuss and be aware of this utter betrayal of our fundamental rights. The most fundamental right in this country is the right to livelihood and a life and what we have down here is overwhelming scientific evidence that the people of this country are going to be liable to starve to death in the next half century. Well this is a substantive probability.
Nick
But this is not just an argument about tactics, if you'll forgive me, which I know you think is trivial compared with the scale of what we face. It is an argument whether, if I gave the whole half hour to simply repeat how many people are going to die and how awful it's going to be and then one pamphlet you wrote at one stage you talked about mass rape, is that going to work? Because you're someone who is interested in what ultimately will work and there are plenty of people in the old Extinction Rebellion movement, outside the movement, saying it doesn't work, it alienates people, it turns them off. People want hope.
Roger
Well, as I expected you haven't listened to me. Several times I've made it clear that I'm not primarily motivated by what works. What I'm primarily motivated by – in a fairly inadequate way, obviously because I'm human – is to live a good life, so that when I'm on my deathbed I feel like I had some integrity at a time when society was heading for the most catastrophic collapse in the human story.
Nick
Forgive me that sounds, which I'm surprised by genuinely, that sounds like you've almost given up. It's 'how do I live with myself before my maker?' – and your mother was a Methodist preacher and it's clear that religion played quite an important part in shaping the person that you are in your youth – it-it sounds as if you, you've given up …
Roger
It doesn't mean I've given up, it doesn't mean I haven't given up, right? It's just not thinking that question is important, right?
Nick
Are you still motivated, I mean that's a deep question you've asked about whether you can live with yourself and your sense of whether you've lived a good life. Were you shaped, are you shaped a lot, by the values, the experiences that you had at home?
Roger
I think who I'm primarily shaped by is my understanding of what people do when they are presented with a catastrophic future – a catastrophic present even – and what we know and what we feel in our veins obviously when this happens to us, assuming we're open to it, is the questions of whether we are actually going to make it or not are not the most important questions. The questions that I hope many of your audience are asking is "I've been presented with overwhelming evidence of a catastrophic future for my children. What's my responsibility to my children?" It's not like what's my responsibilities…
Nick (interrupting)
Okay what is that responsibility? Okay, understood, because you've said that.
Nick
What is it you think is their responsibility because of course the danger with any discussion about politics is individuals think well there's a great limit to what I can do, what difference I make, it's not up to me, there are forces beyond my control. So if there's someone listening or watching now and says okay I've heard that he's right what is it they can do?
Roger
Well, first of all, this is not politics, right? This is one of the biggest problems with how we frame all of this and one of the reasons why people are so confused. They think that 'climate change' – you notice I haven't used those words, right? – they think that climate change is, as you said at the beginning, is an issue, it's a thing, it's on the agenda, there's policies, you know – it's got to be fitted in with our obsession for economic growth and all the rest of it, right? That's not what's going on here, right? What's going on here is the imposition of evil into our lives. Evil is something beyond politics. What evil is, is a scheme of creating mass death.
Nick
Yeah but you're still not answering the question, which is: the person who's listening has woken up emotionally, the way you think I have not, and they say I'm going to do something. What does Roger Hallam want me to do?
Roger
I'm … I'm … This … this is the framing of how I hope and wish that people listening to this will adopt right because as soon as we feel like it's politics then we go into this utilitarian "Does this work? What should I do? I've got to go on holiday that month, you know how can I negotiate all my other elements of my life?"
Nick (ongoing interruption)
The floor is yours to get into it, I'm just asking, what, what do you want them to do?
Roger
I know, I know … I'm getting to it, right? I'm saying – on the basis of understanding what it actually is, right? – that it is an evil situation. In total seriousness, noe I'm not talking science fiction novels here, I'm talking about Hitler you know, the Holocaust, I'm talking about Cambodia, I'm talking about what happened in Congo. This is a beyond-serious situation, right? If the AMOC ... if the AMOC current, as you may know, collapses before 2050, it's on a headline in the newspapers, the British people will starve, yeah.
Nick
I've very deliberately not had an argument with you about the science or the numbers but I am going to say, because I think it's right to say, there are plenty of people who will say it's nothing like the Holocaust. The Holocaust, the deliberate industrialised destruction of a people, and climate change you think is the responsibility of an elite. You slightly dodged the question when I said was it deliberate - you sort of suggested it was a sort of verbal game but it is not therefore the same as Pol Pot massacring people for who they are.
Roger
It's worse! And the reason it's worse is because of the scale, right?
Nick (interrupting)
Yeah, but motive matters, for all the people listening here ….
Roger
Motive matters, absolutely! Don't get me wrong. What happened in the Holocaust was an obscenity beyond words because there was a direct motive to kill, but – as you well know, right, and as any legal person would say – there's two elements to a crime, right? There's the scale of the crime, and the intentionality – and the intentionality is in the mid-ground, as it were. It's not like they didn't know, they didn't have the information. They do know and they do have the information and they're prepared for people to die. Admittedly no one's pretending that the elites want to kill the poor of this world just because they're poor (Nick interrupts unintelligibly) – let me just finish, okay? But (Nick interrupts) but, let me just finish; I've just told you there's a billion people – according to peer-reviewed papers and I could come in with a whole bunch of other ones and people on this list and listening to this program …
Nick (interrupting)
You've shared quite a few different numbers in this interview, but let's go …
Roger
Well let's go … let's go for one billion people, right? That's like 20 times the number of people who were killed in World War II. That's why it's worse.
Nick (still interrupting and dodging the point and issues)
Forgive me. I know my audience reasonably well. I think they're at the … listening to this, watching this, interested in what you're saying they're saying, "What does Roger want us to do?" And then, "What does the government do?" We've still got to come to that!
Nick
So what do people do first of all? Now do you want them and do you think this would make the difference to join the ranks of people, say in Just Stop Oil for example, direct protests whether it's kind of throwing things at paintings, whether it's lying down in the streets, is that what's going to bring about the change?
Roger
There's a fundamental decision and then there's a degree of practicality with any fundamental decision, right? In the real world there's a degree of practicality. The fundamental decision is to emotionally connect with the criminality of what is happening on the basis of what is said. Therefore you have no choice – you have no choice, morally – not to enter into resistance against the British government at this time, because of the intensity and extent of the horror that's coming down the line.
Nick
And to be clear what you mean by resistance (Roger interrupts, trying to stay on topic, "Yes, well I'm coming on to that …."), because you've talked about going to prison (Roger: "there's a practical …") and "if you're not in prison (Roger again: there's a practical …") you're not resisting" is what you said.
Roger (interrupting, trying to stay on topic)
There's a practical side of what resistance means. Resistance is a foreign notion to most people listening to this, no doubt. But it's not, like, impossible to get your head 'round. People resist all the time on different levels. What we're practically talking about here is mass civil disobedience in a UK context, and there's a pathway – which is Just Stop Oil – and, dare I say, people can go onto the website and it takes two minutes and you get into the system and they will tell you what you can and can't do and all the rest of it, right? The fundamental point is that in order to create the change that we need in the time that we've got, we have no choice other than to engage in mass civil disobedience.
Nick
And you believe that will make a difference …. How?
Roger
It's not a matter of whether it makes a difference or not. Obviously, by definition, civil disobedience makes a difference. The question is, "Is it at a scale which will tip a western democratic government into enacting climate policies in the first instance.
Nick
But then there is a practical question which I think is entirely fair to ask you, which is, "You've got thousands onto the street in 2019. Since then we're talking of small-scale resistance and unless you get many more than the ten thousand you had before it's not going to happen. Is it what you want to happen?" Governments are not going to quake. They are not going to dramatically change their policies so are you anywhere close to that?
Roger
We may be, we may be not – and the reason I'm saying that is not because I'm trying to avoid a question, right? It's very difficult to predict, because…
Nick (interrupting)
Did you know before 2019 – in other words, was there a moment you thought, "My God, this is going to happen!" I mean, we are now not getting just a few hundred …
Roger
Yeah, I said, I said to Extinction Rebellion, "If tens of thousands of people go to London there will be a result." Right? That was my prediction on the basis of a study that I'd had, but one of the things about being in this work, as it were, is that it's very difficult to predict whether those people tip over to saying, "I'm going to have to act because I cannot not act," right? And they may and they may not. And if they do then we've got a chance of saving what's left to save and if we don't then we're heading into this mass starvation scenario.
Nick
It often takes something very immediate, very personal, to tip people into action. Now in your case it was as a farmer seeing what the climate was doing to your farm.
Roger
I think actually it's not that much about what's actually happened to you, for most people. I think for most people … most people who enter this, this situation and say, "I cannot live without acting." It's due to an involuntary feeling of horror.
Nick
Humour me by answering one question just for the sheer hell of it. Your farm failed and it was one of the things that made you think, "There's something I need to now do something about."
Roger
Yes! There's hundreds of millions of farmers around the world who've had the same experience as me, which is the trauma – and it is a trauma – of finding out that the weather systems are not going to enable them to grow the crops they wanted to grow. Like, it's a financial disaster for them, but it's also an emotional disaster because they lose control of their lives. You've got a nice calm sort of life, dare I say. You don't have to worry whether this studio exists every time you go to work.
Nick
This is true.
Roger
If you're a farmer, you can be the best farmer in the world, but if it rains every day for seven weeks a hundred percent of your crops are going to die. You know, if it's minus 20 in the winter you're going to lose all your winter crops. The fact that it's a one in a thousand year event is no solace to you. You're losing your livelihood.
Nick
But did that feel to you, when that happened to you on your farm, like a moment?
Roger
It was a moment of making real what is going to happen.
Nick
So something you knew intellectually but seeing…
Roger
Exactly! This is the problem, right? And this is why civil resistance works because we can have as nice a chat as we like and, you know, I can do lots of interviews. Nothing's going to change. What's going to change is the emotion of finding people getting dragged off the street, put into prison on a mass scale. Students crying on motorways. This is how change works. It doesn't change, with all due respect, right? We've got plenty of time – right? – for an intellectual discussion, dare I say it, you know, when I was a researcher at King's College. But at this moment it's an obscenity to just come on a show and say well let's, you know, let's discuss this as if it's 'over there.' It's not! It's in, it's in your stomach, Nick – right?
Nick
Yeah…and in your case it's in your stomach enough for you to go to prison what twice, three times?
Roger
People go – people go to prison all 'round the world through civil resistance. There's nothing particularly peculiar about that.
Nick
Oh no, but there may be people, Roger, unlike you, who say, "For me that is a hell of a thing to risk doing," either because they're personally frightened of it, or they're worried what it'll mean for their family, or how they're seen in society, or their job, their ability to earn a living – so it is a 'big thing.'
Roger
The big thing is what's going to happen to us. That's…
Nick
You've no words of (Roger tries to continue "That's …") comfort for them on don't worry about going to prison (Roger again: "There's no …"), it's just this is so important (Roger: "I have …") you've just got to do it.
Roger
I have no words of comfort, right. Let me say that again. I have no words of comfort for your audience. What I'm saying to you and your audience is, "Get real!" Right? This is not the time to look for comfort. It's the time to actually understand how totally terrible this situation is, and to act accordingly! But that's your duty, right? As a parent, as a citizen, and as a human being.
Nick
Some people will be inspired by what you say. Other people will be terrified, thinking "If he is so clear about this in his mind he'll stop at nothing. It's not just inconvenience, it's not just disobedience, what would it be?
Roger (after trying to interrupt Nick)
What I'm … what … I'm …. What I'm clear about is what's clear, okay? Objectively clear, which is there's a thing out there, it's called physics.
Nick
Yeah but I'm gonna ask you whether there's any limits to this.
Roger
The limits to what you do?
Nick
Yeah.
Roger
We have to engage in civil disobedience – civil resistance – to the point that we fundamentally change the regime, right?. The regime of digging fossil fuels out of the ground. I don't know quite what that looks like and I don't need to. You don't need to have all the information to act. What you have to have is the visceral horror of what's happening and what we need to do is, in November, is go down to London and engage in Civil Disobedience because that's our best bet. No one's pretending it's going to be successful, no one's pretending that Just Stop Oil is necessarily the best thing ever, right? But that's the opportunity your viewers have, and it's the opportunity, dare I say, you and also all these people…
Nick
What, the ones behind the glass pressing the buttons? (still interrupting unintelligibly)
Roger
Yes – now don't smile about this, it's very serious, right! This is the opportunity for you at the BBC to fulfil your duty to the British people which is to say to the British government you will no longer cooperate with a genocidal regime.
Nick (struggling to dodge the truth bullet, in spite of Roger's efforts to stay on point)
Yeah, no – it's not the duty of the BBC to do anything of the sort, unfortunately, but it may be in your life. Tell us what's happening in November because we don't know what's happening in November.
Roger
No, no – I'm not letting you go on that. What we're talking about here is treason against the British people.
Nick (desperate to change the subject)
You're applying for a job? Now what is happening in November? You've told people you want to come to London in November but I don't know, they don't know what it is you're talking about.
Roger
What I want to say to your audiences is your reaction over the last two minutes is symptomatic of why they're being betrayed. You're belittling your responsibility and these people to actually make a concrete step to save our country and you will suffer the consequences of it in the next decade.
Nick (disruptive babbling as Roger continues)
Suffering it in this interview at the moment ….
Roger
Now what I am saying to your audience is you will be taken to court. You will be, as a member of the British establishment. You need to take this seriously.
Nick
I'm going to be taken to court? For what?
Roger
You absolutely will be taken to court as a member of the British establishment for betraying the British people during the 2020s, right.
Nick
Yeah. What will I be guilty of?
Roger
You will be guilty of treason. This is a pregnant moment of potentiality, right? For people in the establishment to decide what they want to do.
Nick
In the meantime you invited people to go to London in November. Can you tell us more what is it you're hoping will happen then?
Roger
There's a website, Just Stop Oil. There's various sort of websites. It's easy. If you're in the audience you go on the website, you sign up and there's a whole bunch of practical details right.
Nick
Yeah.
Roger
The fundamental point is, is making that decision to enter into that process. You don't need to make that decision ultimately by getting involved in the process to thousands and thousands of people in this country have engaged in Civil Disobedience they enter the process with a lot of fear, trepidation, but they're driven to do it and they go through a series of steps right and they're supported in those steps by other people that have had a similar experience of fear and trepidation.
Nick
Understood.
Roger
Right – that's the process.
Nick
Now, over the course of this conversation you've told me how frightening it is, what's going to happen. You've accused me of not doing enough and of not being stirred emotionally to do enough about it. You've got to address, I think, don't you? The people who just say, "I don't want to be hectored and harangued and terrified – I want to be persuaded by cogent argument about what will change and how it will change and what will make a difference." To those (people) who think that you're just thinking they're missing the point?
Roger
Yes.
Nick
But they're your audience.
Roger
No. The audience is the one percent of the population. Civil resistance and social change happens when one percent of the population decides that they have been morally violated to the point that they engage in resistance.
Nick
Now we're getting to the point. So in a sense all those people, and you know them well who say "why the hell is he disrupting our lives?" or "why are they disrupting our lives by occupying a road?" or "why are they ruining some beautiful piece of art by throwing soup or dye at it?" Your point is that it doesn't really matter what 999 people out of a thousand think. What we need is the one to come out and fight.
Roger
No no no no. What matters in this life is whether you violate your core values, which are objective. It's whether you violate your children, you violate your community, and you violate your country. Those are like transcultural norms like going back 10 000 years and what I'm saying is, is when a culture like the culture you're part of, right, violate those norms, it's not a matter of whether you like it, whether you want to be persuaded – that's like it's a stupid, it's a stupid response because you have to grow up and realise, sometimes in life, you have to make an act. You have to make a decision, right? Just as when you decide to defend your children's lives or you defend your country. You don't sit there and analyse it right. Obviously – obviously – there's a place, when you're engaged in that process of confrontation, resistance, for looking at tactics and all the rest of it but that's not what we need to discuss on this program. If you give me 10 programs I'm more than happy to spend time.
Nick
You've had quite a lot of time already. Now does it matter, therefore, that six in ten – even people who protested – said disruptive protesting hinders rather than helps the cause. Does that matter?
Roger
No. For the reasons I've just said.
Nick
So in a way to hell with them. As long as you stirred one person out of 100 on this program.
Roger (over ongoing disruption from Nick)
No, you're totally misrepresenting what I'm saying. It's not a strategy. It's not like, "Oh, those people don't matter because we're just going for those, that one percent," right? We're not going for anything. We're making a statement, right? We're making a statement to eternity about the sort of people we are. That's a completely different universe – right? – of mental activity. Do you understand what I'm trying to say?
Nick
I do.
Roger
I'm trying to say there's something totally unacceptable about the situation we're in.
Nick
No, I do understand it. I just want to end on this if we may because I hear your – I think it's anger, isn't it? Is it fair to describe it as anger? It's not frustration.
Roger
I'm utterly, utterly infuriated.
Nick (interrupting)
Yes, and I look, and I'm aware that occasionally, because we're having a civilised conversation I've smiled (Roger, trying to stay on point, "Because …") and you find it (Roger again, "Because …") annoying.
Roger
Of course I find you annoying! I find – I find everything about the British establishment disgusting! (Nick, interrupting, "Yeah, well, okay, we'll hear about that") And I'm saying that, as an ordinary farmer in this country, I spent 20 years doing my part of the bargain, which is producing food, running a business, doing my bit for society. And for you (cut off by Nick)
Nick (an egregious red herring ad hominem attack, invoking Roger's daughter again)
And I'm entitled, therefore, Roger, to go back to what I asked you before: you couldn't even persuade your own daughter of this. She thought you got it wrong, she thought your tactics were counterproductive, she walked out of Extinction Rebellion, if you can't persuade her …
Roger
That's a cheap shot, as you know, right! It's – it's a hard-talk point, right? As you said, you said to me, you weren't going to use that sort of routine on me, right?
Nick (another spontaneous red herring)
But hold on, (Roger, interrupting: "For the record …") you've just accused me ("For the record …") of being complicit in genocide.
Roger
For the record, she's fully supportive, as it happens – right?!
Nick
Well she wasn't.
Roger
But that's not, that's not the point, is it? The point is, Nick, is, what are you going to do to have integrity in your life, right? What are these people going to do to have integrity in their lives?
Nick (again interrupting)
I will reflect on how I have integrity in my life, if you forgive me, not with a complete stranger I've only just met. I'm paid to ask you questions.
Roger
You've had 30 years, right?
Nick
Yeah.
Roger
You and your generation have had 30 years to look at this information, and what you've chosen to do is have a quiet life right and hell's coming down the road because you didn't act in time, right? It's not my job, as a farmer, to do this. It's the political establishment's job. You've got lots of privilege, you earn lots of money. I don't have a problem with that right that nice guy in there. What are you all doing? What are you all doing?
Nick
You're not – you're not merely a farmer, Roger, though, are you? You're a political organiser, you're a strategist.
Roger
I became that because you didn't do your job. I would love to be weeding carrots.
Nick
Yeah.
Roger
The reason I'm in this studio (cut off by Nick) …
Nick (again, interrupting)
I'd love to be – I'd love to be asking questions that get answered, but we don't always get to do what we want.
Roger
… and that's the problem isn't it? That's the problem.
< PAUSE >
Nick (egregious ad hominem and not-so-subtle emotional appeal too)
Aren't you a depressive? Isn't this the problem?
Roger
No … let me … let me … let me finish on this, right?
Nick (manipulative back-pedalling)
No, I mean, I don't mean, I'm not intruding into your personal, what I mean is (cut off by Roger) ….
Roger (interrupting to stay on point)
No no no no – what I mean is let me, let me tell you what the other side of the world is, that a world that you cannot see, right? Because that's one of the reasons you don't want to go to the other, this other world, right? There's another world out there which is a world of acting upon your fundamental beliefs. When you act upon your fundamental beliefs you experience a certain ecstasy, right? There's a certain glory in it, right, which is invisible to political Elite, because that's why you're so terrified. That's why you, that's why you won't act – because you don't understand, as I see it, that there's a different way to live one's life, right? And you can, you can project … you project …
Nick (talking over Roger again)
I'm intrigued … you but you experience no let's not talk about me we've done enough (Roger: trying in vain to stay on point: "No no no!), but do you feel, no honestly, you've had a lot of time to accuse me of all sorts of things. Are you saying that you and you hope your supporters feel a kind of ecstasy?
Roger
It's not a matter of, not a matter of what I want them to do. I'm, I'm being (Nick cuts in: "No, I'm just asking you to describe …") Yes – so let me say quite clearly, like, many, not all and not all times, when people are put into a cell in a police station they have a sense of peace – a profound sense of peace. This is an involuntary experience, right? You know, because they're going into the, they're going into the police station they're terrified, right – for the first time – and then they're put in a cell. You'd expect them to be terrified and often they are. But – and at the same time – they have a sense of peace, right? This is a spiritual phenomenon, which is, when people stand up against evil, there's a release! There's not a tension anymore. There's not that, that violation of your core self. And when you go into resistance, you suddenly feel like you've rediscovered your integrity – you've rediscovered the essence of what you've, what you think you are, you return to yourself, right? This is a universal phenomenon when people stand against evil historically, and that's what I'm saying to your audience is this is not like … an accounting cost-benefit analysis, right? It's an invitation to be who you already are, right? It's a – it's an invitation to come back to what you already are, which is a fundamentally decent person.
Nick
This is the Zen of protest, the Zen of standing up to what you insist is evil.
Roger
It's, it's something that people experience. You can give it fancy religious words if you like – I don't mind, right? You know it's, maybe it's Christian, maybe it's a the fundamental point I'm trying to say right is that is that you can feel Joy, you can feel wholeness, and you can feel connection when you enter into this resistance orientation, and it's not despite entering into it it's because you do, because you return some sense of wholeness.
Nick
You, you talked about that belief – even hope, I think – that you had in 2019 that there was a moment of change that looked possible, briefly; a moment that was dashed, rejected in your view. Do you see another in your lifetime? Do you still have hope?
Roger
I have 20 more years of my life, and each day, I get up, and I endeavour, to be the good person that I want to be. And what that means in the present context is to be in civil resistance against the genocidal British government. That's it, right?
Nick
Roger Hallam, thank you for joining me on Political Thinking.
Well that certainly challenged my political thinking. I wasn't sure whether he was interviewing me or I was interviewing him at times. I usually approach these interviews with some sort of rough plan, some rough structure. I even try and help the guests by giving them a sense of what we will talk about and what we won't, to try to relax them. I did that with Roger Hallam, and he threw that out of the window (chuckling), and I threw my notes and my structure out of the window too. But I hope it was still a revealing conversation about what motivates him and what he believes might work to bring about political change.
He's not interested in coaxing, he's not interested in worrying, he's not interested in any of the conventional tactics of political discourse. He believes that shock and anger and emotion and ultimately civil disobedience leading, yes, to a willingness to go to prison, is all that will change what he refers to as the "regime," and he doesn't just mean this or any other government. He means what he sees as "the elite" are finally forced to change. And yeah, I've been told apparently I'm part of that elite, and I might go to court for treason. Memorable interview, wasn't it? Thanks for listening.
---
For more media criticism, follow me on Twitter.